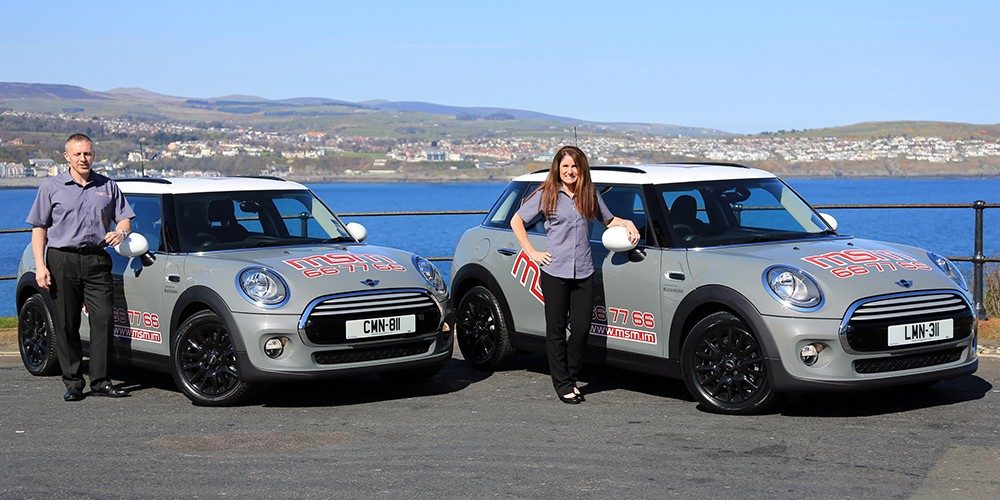 Driving instructors Craig and Lisa Hodgson's abiding love affair with the MINI stretches back to 2002 when their Douglas based driving school MSM acquired the new shape Mini Coopers as great tuition vehicles for their business.
"The first ones were bright yellow but when production in that colour ceased we switched to red and white," he recalls.
Since 2002 MSM has bought some 30 Mini's, all of them from MINI dealer Buchanan, based at the Business Park in Douglas. Craig & Lisa have now taking delivery of two new five-door MINI Cooper hatchbacks in Moonwalk Grey.
"They are a cool, funky looking car both inside and out but with great fuel economy and a low vehicle tax bracket,"
says 46-year-old Craig. "Feedback from our students say they not only love to drive the MINI but they also love to be seen in them. Importantly, they also find them a comfortable, easy car to drive when learning. It is a car with excellent all round safety features, this is a priority when it comes to the safety of our students.
"We have tried various other makes of vehicle over the past few years, but nothing has come close to the high quality and build of the MINI. We have also found that it has been the better vehicle for retaining good value when it have been time to either trade then in or sell them on. We have also always had an excellent relationship with Buchanan BMW and the staff there have given us great support over the years."
When he qualified 25 years ago, Craig was the youngest Government qualified instructor on the Isle of Man. He followed in the footsteps of his father Trevor, who formed A & T Hodgson as an independent driving instructor 30 years ago. To make it a family affair, Lisa became a qualified Instructor in 2004. The business started trading as MSM in 2002.
"Learning to drive is a lot more complex than what it was when I learnt to drive at 16, roads are busier and cars are a lot more hi-tech," declares Craig, who emphasises the importance of teenagers in particular learning to drive with qualified instructors. He is an Institute of Advanced Motorists Advanced Driver and has attained the highest grade as a driving instructor.
Craig and Lisa, have taught a considerable amount of people to drive since they became instructors and Craig adds:
"We don't just teach people how to pass a driving test, we teach them to be a safe driver for life as they are learning a life-long skill."
Students learning to drive with MSM are not only getting personal and friendly tuition, they are also being taught with up-to-date modern driving techniques. Benefits of learning with MSM include mock driving tests, favourable insurance quotes for new or young drivers from a leading insurance company, theory and hazard perception training and student progress reports.
All MSM customers will receive a £500 voucher to be used against any new or used car purchased from Buchanan BMW & MINI dealership.
If you would like to contact MSM to book driving lessons or would simply like to gain further experience on your existing driving skills, please call Lisa at MSM on 667766 or mobile 414243, email: office@msm.im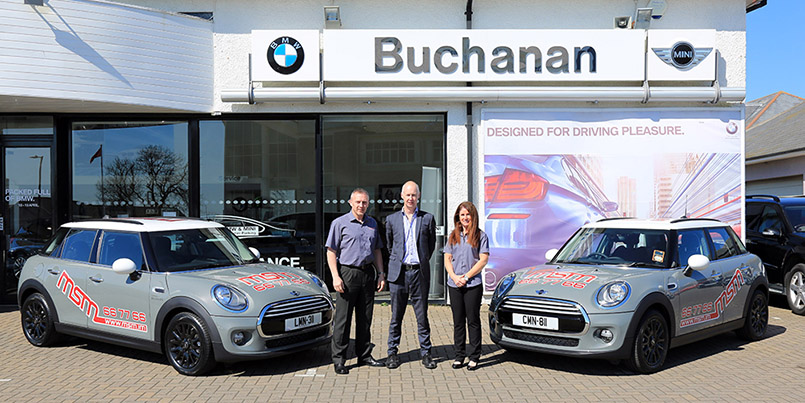 Simon Skillan from Buchanan BMW & MINI commented:
It has been our pleasure to work with Craig & Lisa at MSM over the past 10 years and we are very pleased that they have chosen to use MINI's as their driving instruction vehicles. For us as a business to get new drivers introduced to our brand when they first learn to drive is a great opportunity.
The MINI has always a great car to chose to promote your business as it has such a wide appeal.
We sell MINI's to Men, Women, Young drivers, OAP's and corporate clients. You can drive a New MINI from only £199 per month. If you think of it as a mobile advert for your business this cost is very good value compared to more traditional styles of marketing plus you have a great car to drive as well.
The New MINI 5Dr hatch which Craig has chosen to use has only just been launched but has already proved extremely popular with our customers. It still retains the DNA of the 1959 original however this is now fused with 21 century BMW build quality and technology.
As Craig has mentioned we offer all students of MSM a £500 voucher towards the purchase of any new or pre-owned BMW or MINI from Buchanan BMW & MINI. We see this as a very fair reward for the goodwill that Craig and Lisa have shown us over the past 10 years. Here's to another 10 years of successful association between Buchanan and MSM.
Article published with kind permission from Gallery Magazine Isle of Man: May 2015 edition